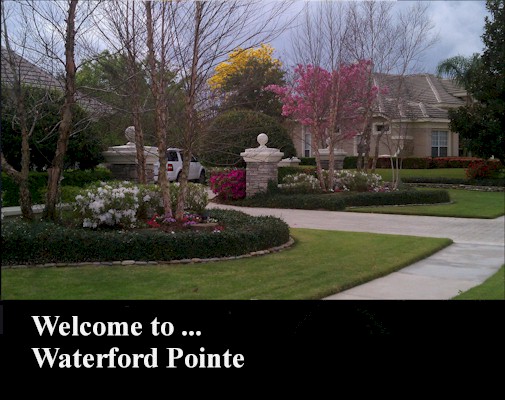 Waterford Pointe is a private, gated and guarded community approaching nearly 115 upscale custom homes in beautiful Windermere, Florida.
Most of our homes are situated on lots of between one and two acres including several on or overlooking Lake Roberts.

Our community also has a volunteer Homeowners Association made up of five Waterford Pointe residents.
The Board of Directors will work to protect our community from excessive growth, inappropriate development, traffic gridlock and environmental threats.

We will also keep an eye on the future to make sure that Waterford Pointe residents enjoy the same amenities as any of the finest subdivisions in the nation.

We'll try to watch out for scams as they surface and make you aware of them.

We welcome your input on this and all other subjects. This is a new web site and will certainly evolve.

Check back often for useful information and remember ... we do want to hear from you.

Special thanks go out to Ellyn Siviglia for her photographic contributions to this web site.